Christmas is a wonderful and magical time of the year. It lands annually on December 25th. Christmas is eagerly awaited and anticipated by a wide variety of people. It's a great holiday for enjoying quality time with family and friends. Rocking around the Christmas tree, kissing under the mistletoe, sipping Egg Nog and singing Christmas carols. It's a time to decorate your homes in bright lights, filling the interior with red, green and white for a most welcoming Christmas cheer.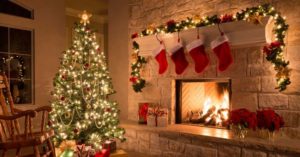 Some great blooms for sprucing up your holiday cheer:
Poinsettias
These cherry red and deep green beauties are the most recognizable Christmas flower, even though poinsettias are actually plants. While their bright leaves look like flower petals, poinsettias are the most popular potted plant of the season. Stick with red or put a twist on tradition with a white poinsettia. Even better, display both red and white together for layers of festive florals.

Red and White Roses
You may not immediately think red roses for Christmas but they are actually a festive flower that brightens the holiday season. The red rose traditionally means love, but some believe it represents the blood of Christ during the Christmas season. Red roses paired with pine-cones and ribbons give off a chic and rustic vibe. White roses symbolize purity and peace, adding a gentle touch of winter elegance to your holiday decor.  Florists use white roses to create winter wonderland inspired arrangements.

Christmas Wreaths
The art of hanging Christmas wreaths originated from the Romans who hung wreaths on their doors as a sign of their status in society. It's circular shape represents eternity, for it has no beginning and no end. Christmas Wreaths are great to have on your door for all your guests to see and an even better way to help spread your Holiday cheer.

Christmas Trees
Legend says the traditional evergreen Christmas trees have magical healing powers, and the circular shape of wreaths further symbolizes everlasting life. We also encourage getting creative with your magical evergreens, decorating them to fit your family's style and endearing quirks. For smaller spaces like dorms, apartments and offices, choose a festive mini tree!

Christmas Centerpieces
The centerpiece for your holiday table can be used throughout the holiday season and inspire a festive season for you and your family. A centerpiece can give your dining table a flare of the Christmas spirit. It's a great addition to your Christmas table to show your love for the festive season.

White Lillies
These enchanted blooms are a brilliant white, embodying a peaceful, hopeful and spirited holiday season. Traditionally, lilies are symbolic of the Virgin Mary. Aesthetically, they add a timeless look to any winter bouquet. Plus, their fresh scent complements the traditional evergreen and earthy pine fragrances of Christmas.

We hope we've given you enough information on choosing great Christmas flowers! Don't forget 416-Flowers is here for all your Christmas floral needs and stay tuned for next week's post about great Christmas flowers and gifts to send to your family, friends and coworkers.