Christmas is the most wonderful time of the year. It is the season for gift giving and flowers make great gifts for family, friends and coworkers.  Ordering flowers for Christmas delivery is a very nice and thoughtful way to wish someone a wonderful holiday season. Place your orders in a timely manner to ensure what you want is in stock and available for delivery on your selected date. Here are a few tips for ordering and delivering Christmas flowers.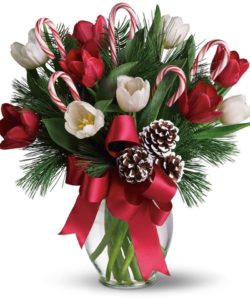 What Flowers are most associated with Christmas?
There are many popular flowers and plants associated with Christmas. Red poinsettia plants, white Casa Blanca lillies and fresh evergreen are probably the most common Christmas plants and flowers. However, roses, mum's and tulips are always popular too. When creatively designed in a Christmas theme with pine-cones, candy-canes or festive decorations, your Merry Christmas message is strongly portrayed.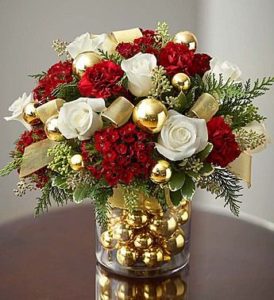 Who Can I send flowers to at Christmas?
You can send flowers to your children's teachers, your accountant, your grandma and to anyone who has made a significant impact on your life.  Sending someone a beautiful and fresh flower arrangement is a great way to convey your warmest Happy Holiday wishes and a great way to spruce up the Christmas cheer for your recipient. Sure, you could simply exchange cards, but why not add a bit of Christmas joy with some flowers? Do you have trouble finding an appropriate gift for your boss? Do you ponder with each item you look at "Is it appropriate?" Flowers are the perfect solution, not too fancy, not too expensive, yet very thoughtful. Flowers eliminate all gift choice second guessing. The number one person to send flowers to at Christmas is the person on your list for whom you just can't figure out what to buy.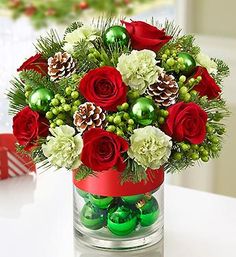 Combine Your Christmas Flowers with Gift Baskets
Apart from flowers, there is a wide variety of Christmas gift baskets, fruit baskets and gourmet treat baskets that you can add on. There is no limit, and you can be as generous as you like with these gift items! Our website has a huge ready made selection of amazing baskets, which are perfect for the holiday season!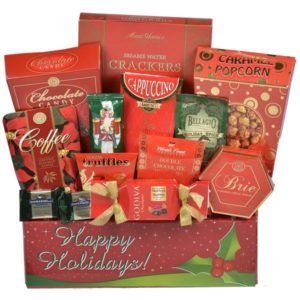 Order Christmas flowers online
Ordering flowers and gifts is a very easy process. Instead of searching the mall with large crowds of people you can place your order online from the comfort of your own home. This makes for a stress free shopping experience and can be done fairly quickly. You can choose your item and select your delivery option and you are good to go. Many florists offer reliable delivery services that take into account of your own personal schedule. You can request for a same day delivery, or select a specific date and time. You can even work with the florist to make your gift a surprise for the recipient, by creating a twist to the delivery!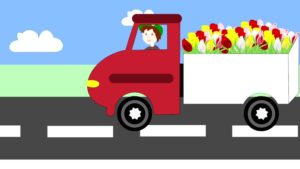 Please stay tuned for next week's blog on perfect gift baskets for Christmas. 416-Flowers is open everyday and we hope to prepare a beautiful Christmas arrangement for you this year!