Roses are a flowering shrub. They grow in many different colors from classic red to yellow, purple and pink. Roses belong to the Rosaceae family and grew wild all over North-America, Europe, Africa and many parts of Asia. There are over 100 species of roses and roses are widely known as a luxury flower around the world.
Roses are widely used across the world as as symbol of love, sorrow and sympathy. Many years ago, Rich Romans would lie on beds made of roses and wear roses around their necks. Anything that was said "under the roses" was considered to be a secret.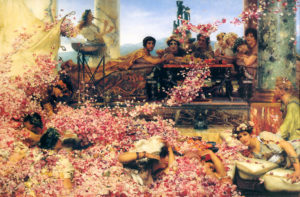 The flower from the rose plant comes in many different sizes. It may be as small as a half of an inch or as large as 7 inches in diameter.  Most roses all have a very pleasant smell. You are able to see the tiny perfume glands on the petals from under a microscope.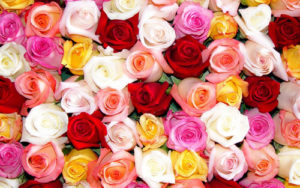 There are thousands of types of roses grown around the world today. The names used to describe all the types usually come from the species of rose that is the main ancestor for the flower.  Hybrid Tea roses, Floribunda roses and English roses are the most common roses found in gardens these days. They come in a wide variety of colors such as red, orange, yellow, pink, purple and so on. Other types of roses you may have heard about before are Alba roses, Bourbon roses, Climbing roses, Miniature roses, Moss roses and Rugosa roses. These are just a few of the many types of roses there are.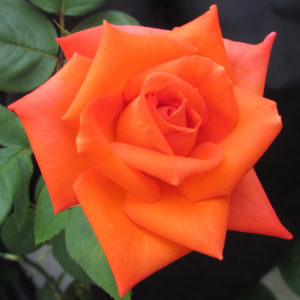 Different colors of roses have different meanings. When choosing roses for yourself or for someone else it may be helpful to know what the colors mean.
Red – A red rose is an expression of love. Red roses usually show deep feelings, like love, longing, or desire. Red roses can also be used to show respect, admiration or devotion. A deep red rose can be used to show regret and sorrow. The number of red roses given has a special meaning as well. 12 red roses is the most popular number to give; it means "Be mine" and "I love you". 
Pink –  There are a lot of variations of the pink rose. Usually, pink roses are used to express gentle emotions such as admiration, joy, gratitude and deep or endless love. 
Dark Pink – Deep pink rose blooms may mean deep gratitude and appreciation. Dark pink roses also express elegance and grace.  
Light Pink –  Light pink rose blooms are symbols of pleasantness and innocence.  
White – White is the color of purity, innocence and love. It represents love that is eternal and endures beyond death. White roses usually may symbolize a new start, and it is a custom for brides to hold them when she walks down the aisle at her wedding. In certain faiths, the white rose can represent the sanctity of a marriage. White roses can be used to show sympathy or humility. They also may be about spiritual things. 
Yellow –  Yellow roses are usually used as an expression of exuberance. Yellow roses show sunny feelings of joy, warmth, and sometimes welcome. They are symbols of friendship and caring. The yellow rose, unlike some of the other roses, does not mean or express any romance.  
Orange –  Orange roses remind most people of a fiery blaze. These fiery blooms are symbols of passion and energy. Orange roses can be used to show desire and pride.  
Blue – Blue roses cannot be found in the nature and so they represent the unattainable or the mysterious. Blue roses therefore show the desire for the goals you cannot reach. They may sometimes mean "I can't have you but I can't stop thinking about you".   
Black – Black is the color of death and farewell. A black rose shows the death of a feeling or idea. Sending black roses to someone indicates the death of the relationship, or sometimes it may be used in burials.   
Lavender –  A lavender rose, like its color, shows enchantment. It also expresses "love at first sight".  
When choosing roses you wish to have delivered you have many options to choose from. You can choose a beautiful and fresh rose arrangement in a vase, you can send a hand-tied bouquet of roses or you can also have them sent in a beautiful box with decorative ribbons. Many people associate boxed roses with Valentine's Day or to celebrate a special Anniversary date. Hand-tied bouquets are very popular to send to someone you know that has a lot of vases on hand at home and a vase arrangement is also very popular for Valentine's Day, Anniversary's or just to say I Love You.