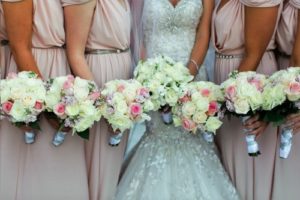 Choosing your flowers is one of the most exciting parts of wedding planning. But before you make any decisions, there are a few points you'll want to consider. Use this step-by-step wedding flower guide to help get you on the right path for perfect flowers.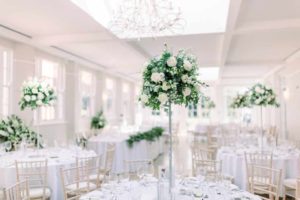 Find the right Wedding Florist
Before you venture out and start the meet-and-greets with selected florists, think about the type of person you work well with. Do you want someone who's going to grab the buds by the stems and take control? Or are you looking for someone who wants you to guide them every step of the way? A combination of both? You'll also need to get a good idea about design tendencies (and if they match yours).  Insist on seeing a portfolio before you commit. Talk to friends and relatives who recently got married and find out who they used.
Consider your Budget
Figure out exactly how much you want to spend on flowers before you meet with any florists. A lot of people estimate that eight percent of the total wedding cost will go to flowers – from the bouquets and boutonnieres to the ceremony, cocktail hour, and reception decor. There's a lot of stuff to consider, so don't be surprised if you end up spending more. So we suggest you pad in an extra 10% to your budget for flowers to stay on the safe side.
Determine your Wedding Flower Vision
Have a general idea about your taste. Are you a true minimalist? Or are you looking to do a romantic Gatsby-style wedding? Create a file of magazine tear-outs  and not just bridal pics. Lifestyle shots, colors, and fashion photos will all help give your florist a clear idea of your loves and love-nots. And don't forget shots from friends' weddings. Maybe you flipped over the centerpieces, but hated the bouquets. Make sure to tell your florist what flowers you like and what flowers you don't like to make sure your flowers will be everything you ever dreamed of on your big day.
Create your Wedding Color Concept
Please figure out exactly what your maid of honor, bridesmaids, flower girls, groomsmen and ring bearer will be wearing before picking out your wedding flowers. It will be very hard to pick flowers if you don't know what color your wedding party will be wearing on your special day.
Pick your Wedding Dress before Flowers
At this point, you should have already picked out your gown, seeing as that will dictate what kind of bouquet you should carry. While you might not think so, florists base many decisions on the bride's gown, how ornate it is, whether it's white or cream, if it's classic or contemporary, and so on. Most florists think of the wedding dress as the centerpiece of the day, so this will give your florist a good idea of where you're going with the wedding style.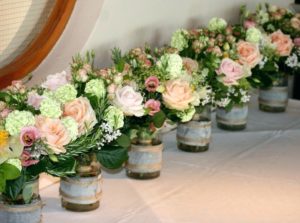 Now that we've gone through a few steps to help guide you along in the process of choosing your perfect wedding flowers we would like to give you some information on what flowers you need and choosing your perfect wedding style. 
If you're having trouble figuring out how to pick out your wedding flowers, think about what style best suits your wedding vision. Some common styles are Traditional, Rustic, Soft, Romantic, Bohemian, Simple, Elegant & Bold. 
Once you've decided on the style for your big day, you have to start thinking about all the types of flowers you will need for your wedding party and what purpose they will serve. Some common wedding party flowers you may need will be Bride Bouquet, Bridesmaid Bouquets, Corsages, Boutonnieres, Flower Girl Bouquet, Ring Bearer Boutonniere, Bouquet Toss & Flower Crowns.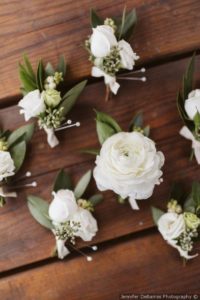 After you have a general idea about flowers required for your wedding party, you can start planning flowers for your big day. You will most likely need Entrance Flowers, Alter/Chuppah Flowers, Aisle/Pew/Chair Flowers, Flower girl Rose Petals, Table Centerpieces, Head Table Centerpieces, Cake Decor, Guestbook Table Decor, Bar Decor & Buffet Decor.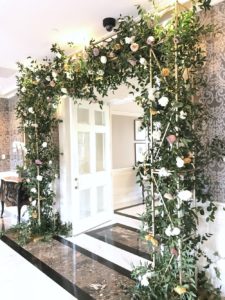 Once you have picked your wedding style, determined who in your wedding party requires what flowers and last but not least decided on what flowers you need for the actual wedding itself you are now ready to meet with your florist. Make sure to pick the florist you feel most comfortable with and don't necessarily pick the one who promises the cheaper price. You want to make sure your flowers will be breathtakingly beautiful and admired by all for years to come! Getting married is a very special and important time in your life so make sure everything is exactly how you dream it to be.