Nowruz, also known as the Persian New Year, is one of the most important holidays in Iranian culture. It marks the beginning of spring and the first day of the Persian calendar, which is based on the solar year. Nowruz is celebrated annually on the spring equinox in March. This year, Nowruz will be celebrated on March 21, 2023.
Nowruz has been celebrated for over 3,000 years, and its origins can be traced back to the ancient Zoroastrian religion. Today, Nowruz is celebrated by millions of people around the world, including in Iran, Afghanistan, Azerbaijan, Tajikistan, and other countries with Persian heritage.
The symbolism of Nowruz is deeply embedded in many cultures. It marks the beginning of spring, a time for hope and renewal. The festivities bring with them an opportunity to pause and remember our shared humanity, something worth celebrating, so let's celebrate Nowruz with open hearts and minds!
History and Significance
Nowruz is an ancient Iranian festival that marks the start of the new year. It's a time for celebration, and families come together to honour a tradition that is over 3,000 years old. Every year, Iranians prepare for Nowruz by decorating their homes with traditional decorations and exchanging gifts of fresh spring flowers. These blooms symbolize renewal and rebirth.
Gifting flowers is one way to show your loved ones how much you care while also embracing the joys of the season. This beautiful tradition has been passed down through generations, connecting us to our ancestors and creating a sense of belonging. We hope that you can join in on this celebration too, because Nowruz really is something special!
Spring Flowers
Spring flowers like hyacinths, tulips, and daffodils are symbols of renewal, rebirth, and hope. They are often associated with the celebration of Nowruz, symbolizing new beginnings. These flowers are also associated with the arrival of warmer weather. Additionally, their bright colours are often associated with the joy and optimism of the new season.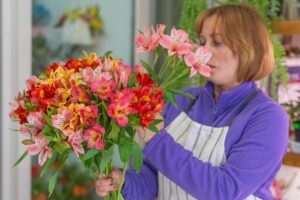 Preparation and Rituals
Nowruz is a festival of joy and merriment, and traditional decorations include colourful displays of flowers, candles, and other items. You can create beautiful flower arrangements to adorn your home or give as gifts to your loved ones. You can also use them to decorate tables or walls for Nowruz-themed events.
The rituals associated with Nowruz are equally exciting and meaningful. From jumping over fires to setting up Haft Sin tables, these activities are part of what makes this time of year so special. Choose the rituals that best fit your culture and beliefs, and spread joy to all around you! Make Nowruz a truly memorable celebration for everyone involved.
Celebrations Around the World
Nowruz is a unique, traditional festival celebrated around the world! It's an amazing opportunity to connect with culture while decorating your space and celebrating with family, friends, and loved ones. Decorations for Nowruz are all about bright colours and traditional symbols of joy. From paper lanterns to colorful rugs and flowers, this is a time for exciting decorations that will bring the spirit of Nowruz into your home.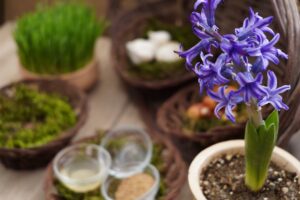 There are so many ways to celebrate Nowruz. From preparing delicious food to engaging in meaningful conversations, this is a time to come together and share our unique cultural experiences. Let's take this opportunity to build bridges of understanding, exchange ideas, and create memories that will last forever!
Customary Foods and Dishes
Ah, what a marvelous tradition! Nowruz is the perfect time for family and friends to come together and celebrate. As we all know, no festival is complete without its customary foods and dishes. It's an opportunity to try something new and discover the flavours of traditional Iranian cuisine.
Decorating the haft-seen table is also a big part of this festive occasion. Seven items are placed on the table, each with its own symbolism: sabzeh (sprouted wheat), senjed (dried fruit), samanu (sweet pudding), sir (garlic), seer (apple), somaq (sumac berries), and serkeh (vinegar). But these ceremonial decorations are not just for show; they serve as a reminder of cultural heritage. Many people take pride in preserving the traditions through these rituals.
These celebration staples add flavour to the festivities by providing us with an array of savoury dishes fit for such a special occasion—from ash-e reshteh, a hearty soup made with herbs and noodles; to kuku sabzi, an herb frittata packed with parsley, dill, chives, and coriander. No matter which dish you choose, there's something special about gathering around the dinner table surrounded by your nearest and dearest and sharing in this age-old custom.
Symbolism of Traditional Decorations
The Nowruz festival is celebrated with traditional decorations, and each one of these decorations has certain symbolism. Decorations are used to symbolize the hope for a prosperous and happy New Year. Let's take a look at some of the most popular decorations used during a Nowruz celebration:
Haft Sin Table: This is a traditional table setting that often includes seven specific items beginning with the letter "S" in Farsi. Each item represents different wishes for the coming year, such as health, happiness, success, etc.
Sabzeh: A pot of wheat or lentil sprouts that is grown throughout spring as a symbol of growth and renewal.
Eggs: Eggs are usually decorated in bright colours and represent fertility and new life.
Mirror: A mirror is placed on the Haft Sin table as it symbolizes brightness and insight into the coming year.
Fish: It's usually made from gold paper or painted clay, which symbolizes life and abundance.
These traditional decorations have been passed down for generations, reminding us of a rich culture and history every time we celebrate the Nowruz Festival together! And while each decorative item has its own symbolism, together they create an atmosphere of joy and peace that unites us all in our shared love for this special holiday.
Special Greetings for Nowruz
Nowruz, the Persian New Year festival, is just around the corner! It's a time to gather with friends and family and enjoy traditional festivities. Decorations are a big part of Nowruz, so why not add some cheerful floral arrangements? With these special greetings, you can show your loved ones just how much they mean to you.
The Nowruz Festival is the perfect time to celebrate the new year and set fresh goals for yourself! Let's celebrate the traditional decorations of this festive occasion by reflecting on our past year and setting meaningful resolutions for the future. Here are some New Year's resolutions to help us get started:
Make time for yourself: Taking time out of your busy schedule to relax and enjoy life is important!
Spending quality time with family and friends and enjoying each other's company is a great way to stay connected.
Get organized: Create systems that will help you stay on track throughout the year.
Take care of your health: Eating healthy, exercising regularly, and getting enough sleep are all essential elements of a healthy lifestyle.
The Nowruz Festival is the perfect opportunity to start fresh and make positive changes in our lives. Let's take this celebration as an opportunity to make meaningful resolutions that will help us reach our goals, create deeper connections with those around us, stay organized throughout the year, and maintain a healthier lifestyle.
Modern Celebrations of Nowruz
Nowruz has become increasingly popular among modern people around the world. It's a great opportunity to celebrate a new beginning and make lasting memories with friends, family, and colleagues. Here are some ways to get in on the festivities:
Gather: Nowruz is an excellent opportunity to invite your loved ones over for dinner or drinks. You could even throw an intimate party or potluck at your home.
Decorate: Deck out your house with festive decorations like spring flowers, lanterns, and colourful banners to create an inviting atmosphere for your guests.
Explore: Take part in local Nowruz events such as parades, music performances, cultural activities, or seasonal markets. With so much going on, you're sure to find something memorable to experience and share with others.
Nothing says "welcome" better than a beautiful bouquet of flowers—they can make any event come alive! Adding spring blooms to your decor will add a splash of colour and joy to any occasion. Plus, it'll show people how much you care about them and appreciate their presence at your event. So don't forget about flowers this Nowruz; after all, it's the perfect way to bring everyone together in celebration!
Frequently Asked Questions
How Long Has Nowruz Been Celebrated?
Nowruz is an ancient celebration that has been embraced by different cultures for centuries. It is a time to honour the past and embrace the future with joy and hope. People love to get together during Nowruz to celebrate this special time of year.
You can feel the energy in the air as families, friends, and even strangers come together to commemorate this important event. From decorations in bright colours to traditional Iranian dishes being served, it's clear that this holiday is celebrated with great enthusiasm and pride. There's also a strong sense of connection among those who celebrate; it's not just about remembering history or customs but also about creating new memories for years to come.
Nowruz is a beautiful reminder of how we can all be united in our shared traditions and beliefs—and that's something worth celebrating!
What Is The Traditional Greeting for Nowruz?
As the old adage goes, "A happy new year brings joy and cheer." Nowruz is a time of celebration for many around the world. The traditional greeting for this joyous occasion is Nowruz Mubarak which translates to "Happy Nowruz."
At this time of growth and renewal, we must remember the importance of sharing this happiness with those around us. Here are some ways to do so:
Send a card or spring flowers to your loved ones
Decorate your home with spring flowers
Take part in community celebrations
Connect with family and friends over video call
Spend time outdoors during a picnic or walk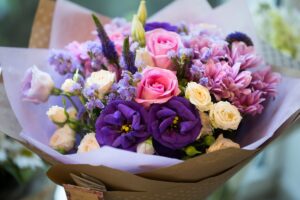 Flowers, in particular, can bring life and love into any home. With their vibrant colours and beautiful scents, they are an incredibly special way to show your appreciation and share in this joyous holiday!
What Type of Gifts Are Exchanged During Nowruz?
Nowruz is a time for celebration, and part of celebrating is exchanging gifts! Gifts are exchanged between family members, friends, and neighbours. They can range from small tokens of appreciation to larger presents that reflect the traditional spirit of Nowruz.
416-flowers.com specializes in offering beautiful floral arrangements that would make perfect gifts for your loved ones this Nowruz. From traditional bouquets featuring tulips and daffodils to modern selections featuring lilies and roses, we have something special to commemorate the occasion. The extensive selection also includes potted plants, baskets filled with colourful treats, and ornamental containers brimming with fragrant blooms—all designed to bring beauty and joy into your home.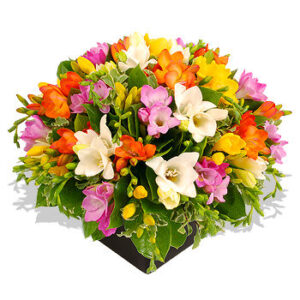 Whether you're celebrating with family or friends, the unique floral creations will capture the essence of the holiday season and create lasting memories that will be sure to evoke happy emotion long after Nowruz has passed.
Are There Any Modern Events to Mark The Occasion?
Nowruz is an ancient celebration that marks the beginning of spring in many countries. In fact, it has been celebrated for over 3,000 years! Today, there are modern events to commemorate the occasion.
One popular activity is the Haft Sin table, which symbolizes health, beauty, and prosperity. This table consists of seven items, including a mirror, candles, apples, and other decorations. People often gather to decorate and enjoy this beautiful spread together.
Attending concerts and festivals is another way to observe Nowruz. From traditional music performances to art exhibitions, people can take part in many cultural activities during this special time of year. Cities like Tehran in Iran host large gatherings every year where people come together to enjoy music, dance, and celebrate their heritage with friends and family from all around the world.
Nowruz is an important event that brings people together from different backgrounds who share a common history and culture. It's a time for reflection and gratitude, as well as celebration and joy—all reasons why this holiday has been celebrated for centuries!
Let the Celebrations Begin!
Nowruz is a time of celebration and renewal. It has been celebrated for centuries in many countries and cultures around the world, each with its own unique traditions. Let's gather together this Nowruz to celebrate with joy!
The traditional greeting of Sal-e-No-Ruz, meaning "Happy New Year," is said to bring luck and prosperity for the coming year. As we embrace our loved ones, let us shower them with gifts to commemorate this special occasion. Gifts of sweets and flowers are just a few of the traditional items given during Nowruz.
416-flowers.com has a lovely selection of Nowruz decorations that will perfectly capture the spirit of this ancient festival. From colourful bouquets to beautiful floral presentations, we have something for everyone. Our staff will be happy to help you find the perfect gift or decoration for your Nowruz celebration. So contact us and let us help you make this New Year extra special!