Funeral Flower Delivery to Any Funeral Home in Toronto
Welcome to 416-flowers.com. We are pleased to have you visit our website.
Are you looking for a reliable and trustworthy funeral flower delivery company in Toronto, Canada? If so, then you have come to the right place.
With several years of experience delivering high-quality and affordable funeral flowers across Toronto, you can trust us to fulfill your funeral flower needs.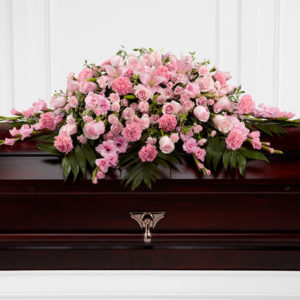 Call us at (888) 633-9049 to book your FREE funeral flower delivery today!
Why Choose Us?
If you are in Toronto and wondering where to get funeral flower delivery, pick up your phone and call us right away!
416-flowers.com offers an extensive selection of Sympathy and Funeral Flowers that are fresh and premium in quality at affordable prices.
Here is why you should choose us as your funeral flowers delivery company:
Premium and fresh funeral flowers
Free flower delivery to any funeral home in Toronto and the GTA
Same-day funeral flowers delivery
Professionally arranged funeral and sympathy flowers
Wide selection of funeral flowers including casket flowers,
funeral wreaths and sympathy flowers
Affordable rates
Sympathy message writing assistance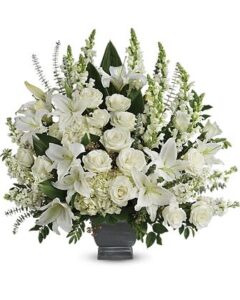 We Help You to Express Your Sincere Condolences
It's not easy to deal with the loss of a loved one. Let 416-flowers.com help you to express your sincere condolences.
Ease the burden of ordering funeral flowers and get in touch with the experts. We can provide free flower delivery to any funeral home across Toronto.
Whether you are looking for large-scale funeral flower arrangements or something smaller, 416-flowers.com has it all.
We offer:
Funeral Wreaths
Funeral Bouquets
Stand-alone Funeral Flowers
Casket Flowers
Funeral Baskets
Sympathy Flowers
Memorial Flowers
Let's Hear From Our Customers
Anna M.
"I was searching online for a trustworthy funeral flower delivery service in Toronto; that's how I discovered 416-flowers.com. My order was time-sensitive, and I needed someone to deliver fresh funeral wreaths and flower arrangements urgently to the memorial of my beloved Aunt Stacy. Not only did they deliver on time, but the quality of flowers and the pricing were equally impressive. From that day onwards, I always rely on them for all funeral flower deliveries. Highly recommended!"
Brad H. Smith
"I ordered funeral flowers for my grandpa's funeral from this company, and my experience with them was quite satisfactory. The flowers were arranged beautifully, and everyone kept asking me where I had ordered them from. I had checked with other flower delivery services but they didn't have my grandpa's favourite flowers available. Thankfully, 416-flowers.com was able to arrange them for me and I could get my grandpa the flowers he loved so much. They also helped me write a heartfelt sympathy message that I added to the flowers. I would recommend their service to anyone looking for a professional funeral flower delivery company in Toronto. These guys are one of the best."
Call us at (888) 633 9049 for Free Funeral Flower Delivery, or click here to view our complete Funeral Flowers selection.