Sending flowers after someone passes away is a very common way of expressing sympathy to the family of a deceased individual. In ancient times flowers were used to adorn the casket and/or burial site and also to anoint the deceased. Today flowers are meant to comfort those who are grieving and serve as a reminder of the spirit of life. Sending flowers is a wonderful way to let the family know they are in your thoughts during this difficult time. You may also send a fruit or gourmet basket to the family once the funeral is over to let them know they are still in your thoughts. It may also be helpful for struggling family members who haven't had time to pick up groceries with the busy time of visitation and funeral planning. It is usually the sender's intention to offer comfort during these times.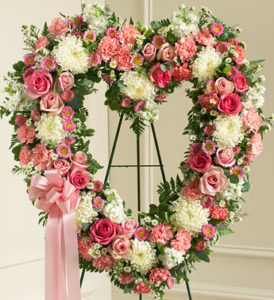 An important step in choosing funeral flowers is to recognize the wishes of the family. Some families may ask for a donation to a favorite charity or a personal cause. Some people choose to send flowers to the visitation or funeral in addition to making a donation. The decision is ultimately yours but respecting the family's wishes is always appreciated.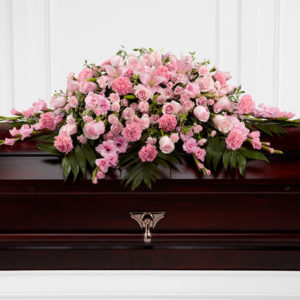 Once you have chosen to send flowers consult with a local reputable florist such as 416-Flowers.com and discuss with them what you have in mind of sending. Flower type, color theme, budget and delivery information will be great information to discuss. You should be ready to provide the florist with information about the deceased as well. The florist will need to know the name of the person who passed away, the date, time and location of the funeral service.  You may also like to think about what you would like your card message to the family to say or if you would like to add a personalized ribbon to what you're sending. 416-Flowers.com has a lot of experience with sympathy card messages if you can't come up with anything on your own we'd be definitely glad to help you out.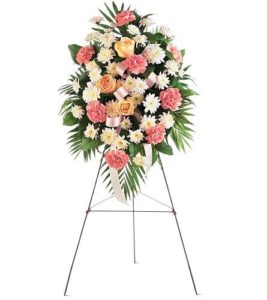 Another important aspect of choosing sympathy flowers is considering which flowers you'd like to be used. Red roses represent love and respect. Pink roses represent grace and gentility. Blue flowers represent peace and serenity. Yellow flowers represent friendship and new beginnings. Each flower and color have different meanings and you should consult with your florist if you have a special message you would like to convey through flower types or colors.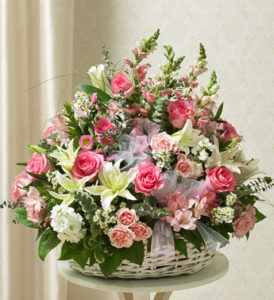 416-Flowers.com has been creating beautiful floral arrangements and gift baskets for over 20 years. Our floral design team has extensive knowledge of flowers and we pride ourselves on the look and quality of everything that leaves our doors. Should you find yourself needing to send flowers for a funeral , a visitation, a burial or for any other sympathy service we are here to help you. You may give us a call and we will be right there with you every step of the way making sure your order is well taken care of. We also offer free funeral home delivery to anywhere within the greater Toronto area if your order is over $69.